Throwback Thursday or #TBT is a social media trend of posting old photos or previously posted ones. It can be fun, nostalgic or in this case, yielding real treasure.

By coincidence, I Googled "Boomer Muse butterfly" to find an image to email to someone. What popped up wasn't the one I expected but an old one from four years ago I'd posted to Pinterest. I clicked and found this.
Nothing ever dies, it just changes form
and I didn't know whether to laugh or cry. There is a cat in and with my old boy on his way out, I felt like crying. I noticed the link went to my old non-existent blog and I really felt like crying. This image was one of thousands I thought was lost when I migrated the blog two years ago to a new URL and lost the previous archive of six years. But wait, then I clicked on what I thought was the broken link and it took me to my old Pinterest page. And there, I found, a treasure trove of dozens of my old images, art, quotes. It's not thousands but at least enough to bring a smile, I hope.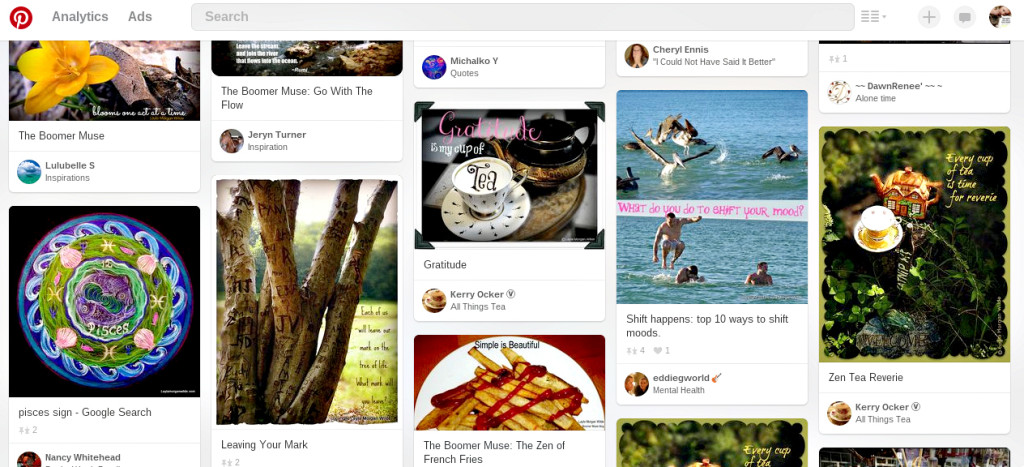 Nothing ever dies, it just changes form. This will be a Throwback Thursday I'll never forget.  You can click on the Pinterest link and find what made me smile and go a bit leaky-eyed. The comments from those who pinned the images was bonus. Sadly, there are the blog titles but no blog posts. I'd love to read Shift Happens: 10 Ways to Shift Your Moods.
I'm loving Pinterest more than ever and if you don't already follow us, please do. See our Pinterest box in the side bar to follow. You can find or create dream collections of absolutely anything and I mean anything. Whatever your pleasure, enter it in the search bar and enjoy.