If you're getting married, hiring a wedding photographer is a given. Some are more creative than others but most couples want the standard memory shots, mostly posed, nicely framed with some candid shots. I would likely get fired for capturing unwedding-like pics, unguarded, anything but posed shots like these.  On a steamy July afternoon, I nipped into my favorite Persian gardens AKA Untermyer Park to relax by the waterlilies (last week's blog focus) and chanced upon a bridal party. No parents or older folks in sight, just the lovely bride and groom, their attendants, adorable flower girl,  sweet ring bearer, two photogs and two videographers. I consider it lucky to see a bride on her special day and couldn't resist watching the scene unfold.
It was the kind of hot, sunny day where the air stood still and any movement short of ordering a mojito required too much effort. I made a beeline to a wooden bench under a tall shaded tree and sipped from my water bottle.  Some of the men flung off their jackets, but wearing black from head to toe must have felt sauna hot.  Kudos the good humored and very professional  crew who, sweat or no sweat didn't miss a beat.  They were worth every penny. From my shady perch I  casually snapped with a cellphone most of these shots.  A bridesmaid sat down beside me  and we commiserated about the heat and high heel pain, but mostly made myself invisible. I prefer it that way which is why I will never be a wedding photographer.
I enjoy creating a different kind of narrative, seeing what no one else notices to capture another perspective. When photographing people, I'd rather be on the sidelines waiting for moment, a feeling that evokes honest emotion. It's not always pretty but it's pretty real.  We live in a selfie-saturated world but most people aren't that comfortable being photographed especially with a big, pro camera, myself included. At a wedding the bride and groom are the stars but the guests are the constellations; the friends and family close enough to celebrate with them. I often find unexpected moments like a dad munching on his daughter's Goldfish crackers, photo gold.  What I love is the relationship between the person, the object and the composition. Spontaneous moments happen in a split second so to get an meaningful shot means having an intuitive sense of possibility. I never expected after snacking, the flower girl would sit beside me or half her dad suddenly twirl her in the air but I was ready.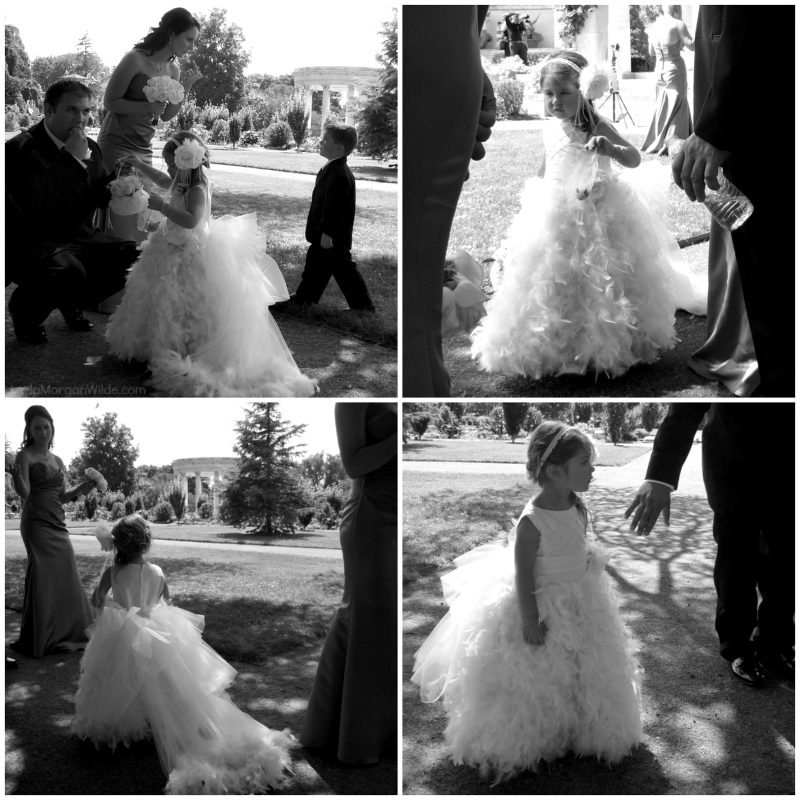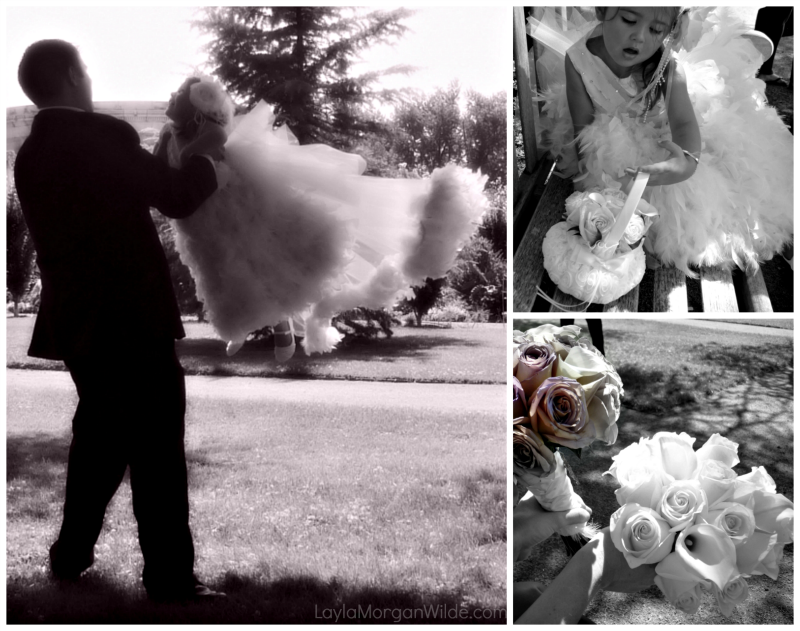 I actually took only a couple shots of the bride. The silhouette of bridesmaids' gowns made an interesting shot and bouquet were simple but stunning.
After I got up from the bench,  some of the wedding party gladly took cover in the shade.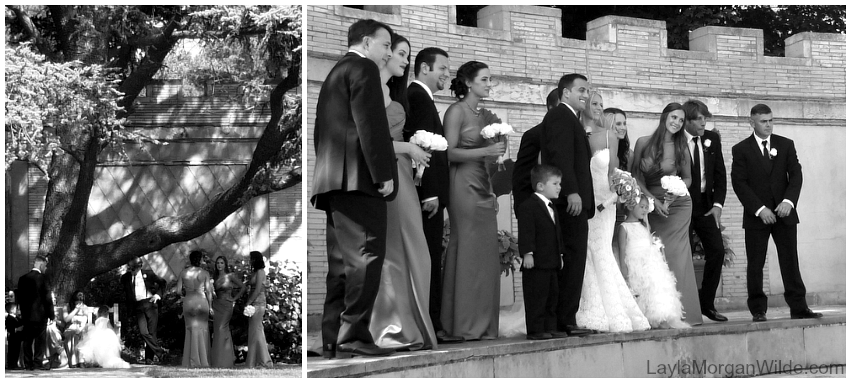 As I was leaving, I got my final shot of the photographer and the wedding party and had a few words with the photographer as he was setting up for the next shot. I suggested the Temple of Love, a grotto on the property but time was up.  You'll never see shots of wedding photographers in a wedding album but I love taking shots of photographers at work. This gives a sense of how hard it can be get a good group shot.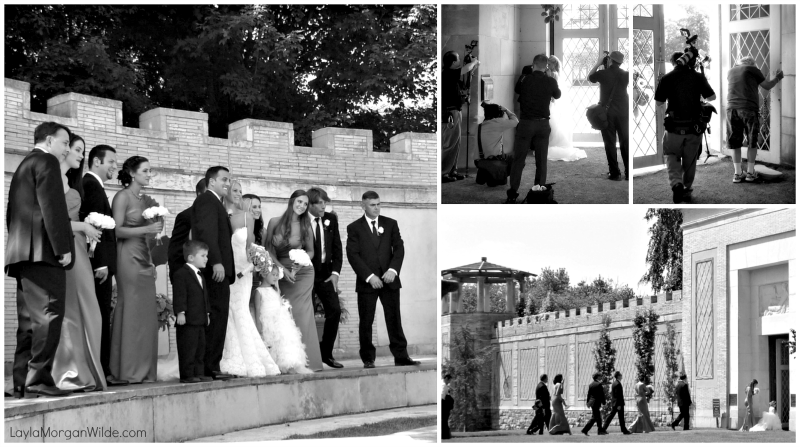 In a perfect circle of serendipity, I'd captured the party entering the garden and the shooters exiting. As luck would have it, Small Moments Photography posted their beautiful shots of the bride and groom, Laura and Bret.  And I feel lucky to have captured a few unwedding-like wedding photos.